World News
Argentina players led by Lionel Messi unfurled a banner in support of Sergio Aguero prior to Brazil game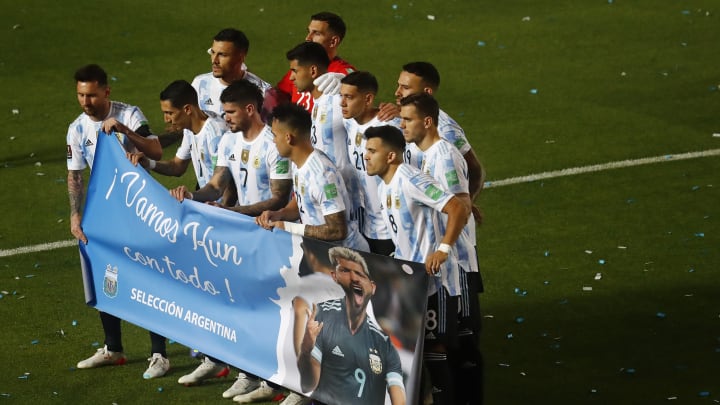 Argentina players unfurled a banner in support of Sergio Aguero prior to their game against Brazil / Marcos Brindicci/GettyImages
The Argentina players led by skipper Lionel Messi unfurled a giant banner in support of striker, Sergio Aguero prior to their 2022 World Cup qualifying game on against Brazil which ended up in a goalless draw on Tuesday night.
Aguero who is currently playing for Barcelona in Spain recently saw arrhythmia heart issues flare up during a game against Alaves, with doctors advising the superstar to take three months out of football, in order to focus on his health.
The player for his part has quashed talks that he would need to retire from the sport, though there has been a lot of concern for him from his Argentinian compratriots who pledged their support for him ahead of the game.
"We are all with you, Kun," read the banner, which came accompanied with a photo of Aguero celebrating scoring for Argentina. 
Aguero has been asked to rest and assess his situation for three months, with Barcelona confirming that they would give him all the support that he needed. The player for his part released a video thanking the Barcelona supporters for the messages of support he has received. 
"Hey Culers! Sending you all a big hug! Thank you for all the messages of support. Now it's time to recover and wait for more news. Sending you all a big hug."