Premier League
5 Premier League Clubs With the Most Expensive Season Tickets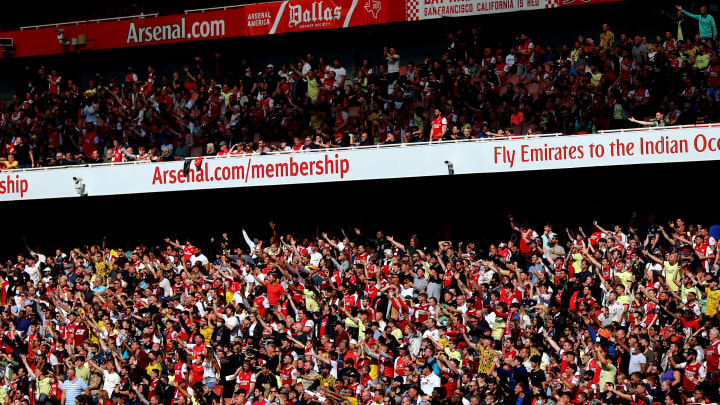 Arsenal have the most expensive season tickets / Chloe Knott - Danehouse/Getty Images
The Premier League is the richest and most competitive league in the world, and on the other side it is also home to some of the most expensive season tickets across football. England is home to a number of historic clubs, though some of them do charge fans large sums of money in order for them to watch the beautiful game.
According to compare.bet, these five clubs charge the most for season tickets.
1.

Arsenal - £891
Arsenal v Chelsea - Pre Season Friendly / Chloe Knott - Danehouse/Getty Images
Arsenal fans have been unhappy with the way their club has been run in the recent past, and what makes it even more hurtful is that the management charge them the highest amount among other clubs when it comes to season tickets.

The Emirates is without doubt a beautiful stadium, though it does not possess the history that Highbury does.
2.

Tottenham Hotspur - £807
Tottenham Hotspur v Aston Villa - Premier League / Pool/Getty Images
Tottenham Hotspur come second in the list of having the least affordable season ticket, and it should not come as a surprise considering that they unveiled their new stadium in 2019, and it is without doubt the best stadium in England.

The COVID-19 pandemic has affected them more than others, and hence they charge fans £807 for the most affordable season ticket.
3.

Liverpool - £685
Liverpool v Crystal Palace - Premier League / Gareth Copley/Getty Images
Liverpool are one of the most successful clubs in the history of English football, with their Anfield stadium one of the most historic ones across the globe.

The Reds are known to have a passionate fan base and they charge each of them £685 for the most affordable season ticket, which is the third-highest in the Premier League.
4.

Chelsea - £595
Chelsea v Tottenham Hotspur - Pre Season Friendly / Chloe Knott - Danehouse/Getty Images
Chelsea have established themselves as one of the most successful clubs in England especially after they were bought by Roman Abramovich in July, 2003.

The Blues have priced their most affordable season ticket at £595, making them the fourth least affordable club in terms of ticket prices.
5.

Wolves - £549
Stoke City v Wolverhampton Wanderers - Pre-Season Friendly / Robbie Jay Barratt - AMA/Getty Images
It might come as a surprise to many that Wolverhampton Wanderers find a place on this list, considering that their most recent return to the Premier League was in 2018.

Since then they have established themselves as a top-10 side in the league, and rank fifth on this list.