Lists
5 Clubs Who Have Won the Most League Titles in LaLiga History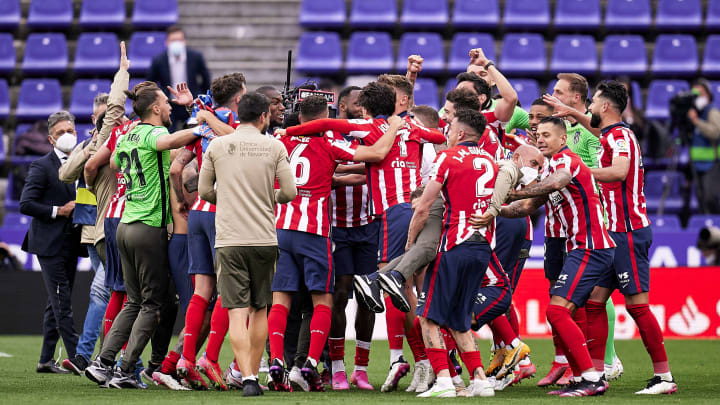 Atletico de Madrid won the 2020/21 LaLiga title on the final day of the season / Quality Sport Images/Getty Images
Atletico Madrid's 2-1 win over Real Valladolid 2-1 on Saturday ensured that Diego Simeone's side secured the LaLiga title, which was their first title win since the 2013/14 season. Atletico needed to win on the night and they did just that to spark celebrations all across the Spanish capital and fans of the club.
1.

Real Madrid - 34 Titles
Real Madrid CF v Villarreal CF - La Liga / Denis Doyle/Getty Images
The most successful club in Spanish top flight history and in Europe, Real Madrid have so far won 34 LaLiga titles, which is the most for any club in the league.

The Los Blancos have been a dominant force in Spain, winning their first league title in 1931/32, with their last win coming in 2019/20.
2.

Barcelona - 26 Titles
FC Barcelona v SSC Napoli - 2019 International Champions Cup / Gregory Shamus/International Champions Cup/Getty Images
Madrid's famous rivals and another club from Spain who are one of the top and illustrious clubs in Europe - Barcelona have so far won 26 titles, with their last title win coming in 2018/19.

The Catalan giants though won their maiden LaLiga title before the Los Blancos, with it coming in 1929.
3.

Atletico Madrid - 11 Titles
Real Valladolid CF v Atletico de Madrid - La Liga Santander / Quality Sport Images/Getty Images
Atletico Madrid have in the recent past established themselves as one of the best teams in Europe and a club who have proved a thorn to Real and Barcelona in LaLiga.

The most recent LaLiga winners, have won the title 11 times in their history, with the first one coming in 1939/40.
4.

Athletic Club - 8 Titles
Athletic Club v C.A. Osasuna - La Liga Santander / Juan Manuel Serrano Arce/Getty Images
Athletic Club might have fallen by the wayside when it comes to league titles off late are still in the top-tier of the league as seen by their eight title wins.

The club who are known for their policy of only playing players from the Basque are and origins, last won the title in 1983/84.
5.

Valencia - 6 Titles
Valencia's Caneira (L), Rufete, Sissoco / JOSE LUIS ROCA/Getty Images
Valencia have always been a good side and were exceptional for a period in the early 2000's, a time in which they won two league titles. Their last LaLiga title in came in 2003/04, with their first one coming in 1941/42.