A lot has gone down at Manchester City since the Abu Dhabi United Group announced their takeover of the club back in 2008.
Four managers, three league titles and £1.5bn spent on transfers; the last decade or so has been a lot of things, but 'dull' has never been one of them.
As we approach 12 years of one of the Premier League's modern dynasties, then, we're going to take a trip down memory lane, and rank the first ten signings made with the help of Sheikh Mansour's billions.
---
10. Gunnar Nielsen Gunnar Nielsen is a goalkeeper who can vaguely be described as having existed at one point in time.
His three years at City yielded just one senior appearance - off the bench after an injury to Shay Given - but he did become the only Faroese player ever to feature in the Premier League.
---
9. Roque Santa Cruz
Well, you can't get them all right, can you?
Santa Cruz was signed from Blackburn as part of an illustrious summer overhaul in 2009, but ultimately cost City £4.75m for every goal he scored, and eventually left on a free after a variety of underwhelming loan spells.
---
8. Stuart Taylor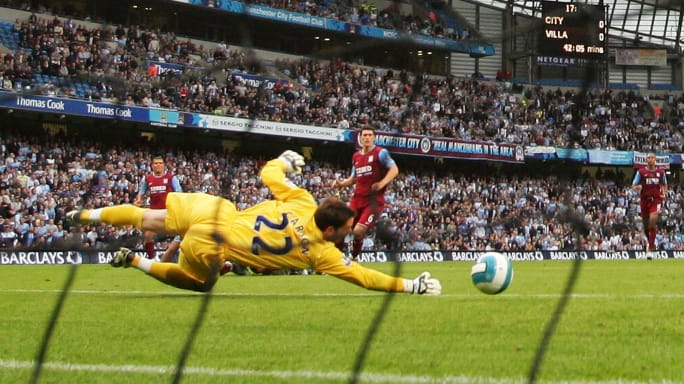 Signed for free. Didn't make a single league appearance. Still a better signing than Roque Santa Cruz.
---
7. Wayne Bridge Suppose he was a decent left-back for a bit, and he did give us the scandal of the century when he *pause for dramatic effect* refused to shake John Terry's hand.
His signing always seemed a bit superfluous, however, and the arrivals of Gael Clichy and Aleksandar Kolarov eventually exiled him into the realms of utter pointlessness.
---
6. Craig Bellamy Bellamy managed to fit more controversies and fall-outs into his two years at City than most players do in their entire lives, and for that he has to be respected.
Fortunately, there were a few good performances thrown in there too. He managed 15 goals, including a goal of the month winner against Manchester United in September 2009, before Roberto Mancini came along and decided enough was enough.
---
5. Shay Given You could make a case for Given as the most underrated keeper of the Premier League era. The Irish stopper was inspirational on his day, and though his best football probably came at Newcastle and Aston Villa - either side of his short stint in Manchester - he was still well worth the £8m investment.
He displaced Joe Hart for a season and a half, and although he left before the successes really started rolling in, he remains fondly remembered at the Etihad.
---
4. Robinho Back in September 2008, Barack Obama was on the verge of being elected president of the US, Liverpool had only gone 18 years without a league title, and the British transfer record stood at a measly £38m, after City broke the bank to land Robinho from Real Madrid.
At times, he was unplayable in the 2008/09 campaign, however, for that sort of money, you ideally want more than a solitary good season. Still, he's the signing that kicked it all off, and unlike others on this list (looking at you Santa Cruz) he did deliver before injuries took their toll without mercy.
We won't bother going into what has happened since.
---
3. Gareth Barry If Steve Rodgers is Captain America, then Gareth Barry is Captain England.
He might have had all the pace of a walrus in the Sahara, but he's arguably one of the most consistent players the Premier League has ever seen (his league record 653 appearances attest to that). As value for money signings go, the £12m City paid for him looked an absolute snip by the time he left for Everton in 2014.
---
2. Nigel de Jong There was a time not too long ago, around the time he took Xabi Alonso out at the chest in a World Cup final, that Nigel de Jong was one of the best midfield enforcers in football.
He might have injured more players than he did score goals throughout his career, but there's no denying De Jong was effective; his Premier League winner's medal can speak to that.
---
1. Carlos Tevez When Tevez crossed the picket line from one side of Manchester to the other, it ended up summarising the modern era at Manchester City; it was controversial, maligned and in your face, but it brought success.
Not quite Sergio Aguero levels of success, granted, but 73 goals in 148 games is nothing to sniff at; certainly not when it yields a league title and an FA Cup. He's one of the best forwards of the late 2000s and 2010s and showed why whenever he donned sky blue.
---
For more from Robbie Copeland, follow him on Twitter!