You can be the greatest FIFA player in the world. Your Ultimate Team could be stacked from top to bottom with in-forms, Team of the Year and all the SBC cards humanely possible, but the truth is if your team doesn't have pace, you're going to struggle.
ORDER NOW: FIFA 21 releases October 6th, order yours today!
Speed is integral in the FIFA game series; it always has been and it always will be. And while we all moan at the time when we're on the receiving end of a ridiculously fast counter attack, nobody wants to play a slow and sluggish game. Fast players make the game thrilling and more end-to-end.
With FIFA 21 soon to launch onto all major consoles - including next generation platforms - why not get a head start on your mates? We've already taken a look at the top 100 players in the game, but we haven't pointed out the fastest.
Here are the 10 quickest players in FIFA 21.
---
10. Leon Bailey (LM) - Bayer Leverkusen Bailey has quietly become one of the most dangerous wingers in the Bundesliga since moving to Bayer Leverkusen in 2017, which has seen him linked with a number of top sides.

The 23-year-old hugs the touchline and punishes defenders with his shrewd dribbling and blistering pace, which earned him seven goals and three assists in all competitions last season.

He's able to make smart runs in behind thanks to his speed, which has been recognised by FIFA. 94 pace on an 80 rated Bailey could make him a hidden gem.
---
9. Achraf Hakimi (RM) - Inter Why Real Madrid decided to sell Hakimi to Inter upon the end of his loan at Borussia Dortmund is still a question that remains unanswered.

The versatile right midfielder/wing back is a one of a kind player and thankfully, FIFA have recognised what Real haven't - rewarding him with a lethal 94 pace. Inter have got a bargain on their hands.
---
8. Ismaila Sarr (RM) - Watford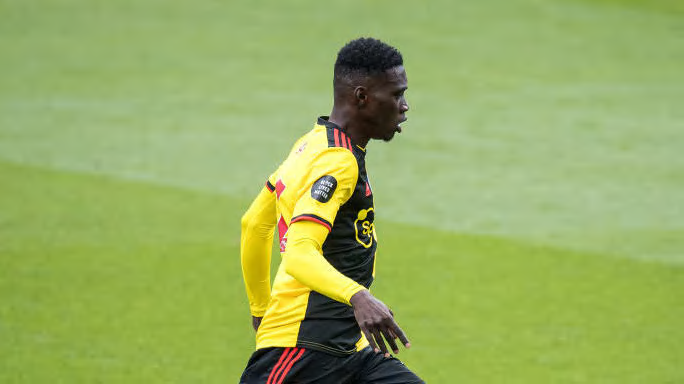 If Sarr somehow fails to make a move away from Watford following their relegation, his card will make for the perfect Championship side in Ultimate Team.

The 22-year-old was one of the standout performers in a relegated Hornets side from last season, and his pace on the counter attack proved deadly on a number of occasions.

He's only 78 rated, but his 94 pace makes him an immediately attractive option, likely at a mouth watering price for the Ultimate Team heads reading.
---
7. Anibal Chala (LB) - Dijon
Attacking full backs are a necessity in the modern game, so to have someone with that extra stride of speed makes them that bit more vital to a team.

69 rated Anibal Chala plays for French Ligue 1 side Dijon. Usually, he'd be completely overlooked, but his 95 pace makes him hot property.

95 pace on a 69 rated player. Disgustingly overpowered.
---
6. Kensuke Nagai (ST) - FC Tokyo For anyone looking to broaden their FIFA experience this year, there's plenty of reasons to spend some time playing in Japan's J-League.

If Shunsuke Nakamura and his 90 free kick accuracy isn't enough, then Kensuke Nagai must be. The striker possesses a terrifying 95 pace, as well as 75 physical.

For someone who's just 70 rated, he could be a must-have in both Ultimate Team and Career Mode at some point.
---
5. Vinicius Junior (LW) - Real Madrid
The sky is the limit for Vinicius Jr.

With Gareth Bale seemingly on the way out of Madrid, it's his time to step up and show why Los Blancos made him the second-most expensive teenager behind only Neymar. The 20-year-old compliments his sharp dribbling with explosive pace and leaves defenders in the dust as a result.

95 pace and 86 dribbling will make him endlessly fun to use in FIFA 21.
---
4. Daniel James (LW) - Manchester United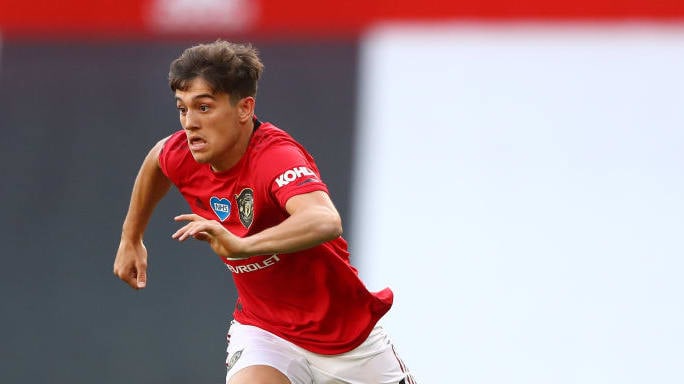 His pace made him look like a bit of a one trick pony at times during his debut season with Manchester United, but it also caused a mass headache among defenders as a whole in the Premier League.

At his best, James simply cannot be tackled or caught up with. He's lightning quick and perfect in counter attacking football, and has a decent right foot when he wants to find the back of the net.

Still just 22, there's plenty of room for his 77 rating to jump up. For now, though, his 95 pace will do just fine.
---
3. Alphonso Davies (LB) - Bayern Munich
Davies' transition to left back and subsequent meteoric rise under Hansi Flick at Bayern Munich has been an absolute pleasure to watch.

The 19-year-old has adapted seamlessly into the defensive role and set the pace (literally) for the next decade as to what it means to be an attacking full back. His FIFA rating has been bumped up accordingly, too, as he's one of the most improved players in the game.

96 pace, 82 dribbling and 76 physical is one deadly trio of attributes.
---
2. Kylian Mbappe (ST) - Paris Saint-Germain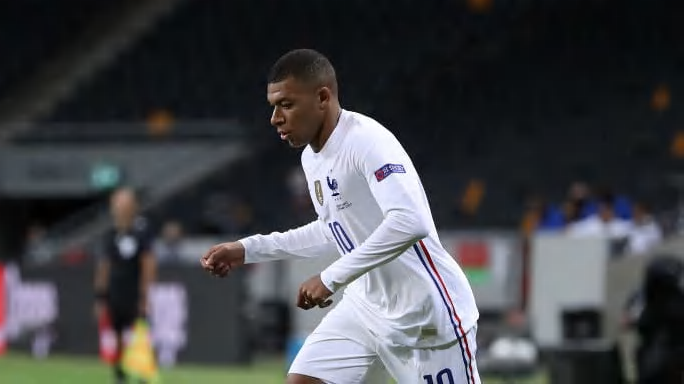 Mbappe is perhaps unfairly recognised due to his blistering speed as nothing more than a fast striker, which absolutely isn't the case.

His awareness of the game and technical ability is immense - especially for just 21 - and it allows him to get the most out of that raw speed and athleticism.

Watching the Frenchman dart past the opposition is mesmerising, and in FIFA it's an absolute nightmare to play against. He also comes in at 96 pace, but combines it with 91 dribbling and an 86 shooting rating.

Just quit the game if you come up against someone with him.
---
1. Adama Traore (RW) - Wolves Joining Mbappe and Davies as the joint-fastest players in FIFA 21 is Wolves winger and future WWE Champion, Adama Traore.

Traore, as well as being built like a brick - you know the phrase - reaches some unrelenting speeds when at full stride, which is testament to his sheer athleticism and dedication. In recent seasons, he's combined this with a more consistent end product, be it beating a man and finding the pass or even going for goal.

96 pace and 80 physical is going to get seriously abused in Ultimate Team, isn't it...
---